JY Alu Housing Single Phase Electric Motor (JY5622)
2021-05-17
Model NO.:

JY5622

Number of Stator:

Single-Phase

Rotor Structure:

Squirrel-Cage

Number of Poles:

8

Certification:

ISO9001, CCC

Specification:

IEC. CCC

HS Code:

85014000
Operating Speed:

Constant Speed

Species:

Jy Motor

Casing Protection:

Protection Type

Starting Mode:

Direct on-line Starting

Trademark:

Xinnuo/cnalem

Origin:

CHINA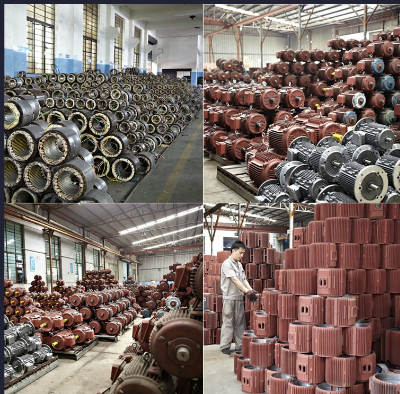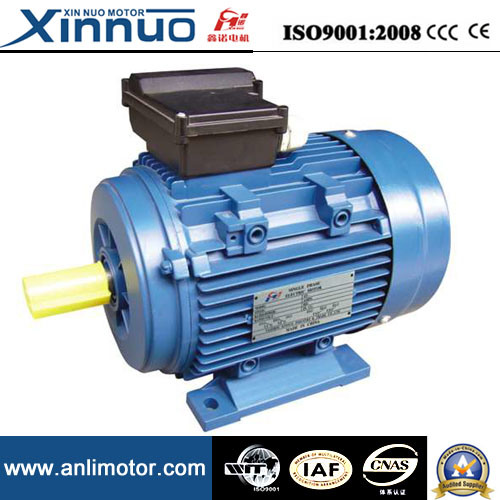 JY series aluminum ousing single-phase capacitor-run asynchronous motors, with latest design in entirety, are made of selected quality materials and conform to the IEC standard. MY motors have good peroformance, safety and reliable operation, nice appearance, and can be maintained very conveniently, while with low noise, little vibration and at the same time of light weight and simple construction. The multiple of starting torque is 0.3-1.7.
These series motors are suitable for the occasion where there requirement of starting torque is low and long-term continuous working, such as home electric appliances, pumps, fans and recording meters, etc.
Operating Conditions
Ambient temperature: -15oC
Altitude: Not exceeding 1000meters

Rated voltage: 220V

Rated frequency: 50Hz/60Hz

Duty/Rating: Continuous(S1)
Insulation class: Class B/F

Protection class: IP54, IP55
Cooling method: IC0141

Single-Phase Electric Motor Suppliers
YC/YCL series single-phase cast iron housing induction motor
YC, YCL series heavy-duty 1 phase motors are totally enclosed fan cooling type. It is cast iron housing high starting torque motors. Motors of this series are integrated with up-to-date design, manufactured with the best quality materials, possess the features of pleasant looking and meet the IEC standard.
Application:
This series motor is suitable for small size machine tools and water pumps, especially for family workshops where only single-phase power supply is available.
Operating Condition:
Ambient temperature

-15°c to 40 °c

Altitude

≤

1000m

Rated voltage

220V, 230V, 240V, 110V, 115V, 120V, etc

Rated frequency

50HZ, 60HZ, 50HZ/60HZ

Duty

Continuous(S1)

Insulation class

Class B, Class F

Protection class

IP44, IP54, IP55

Cooling method

IC0141
Note:
The voltage and frequency could be made according to your requirements. If there is any question or need, welcome to contact us.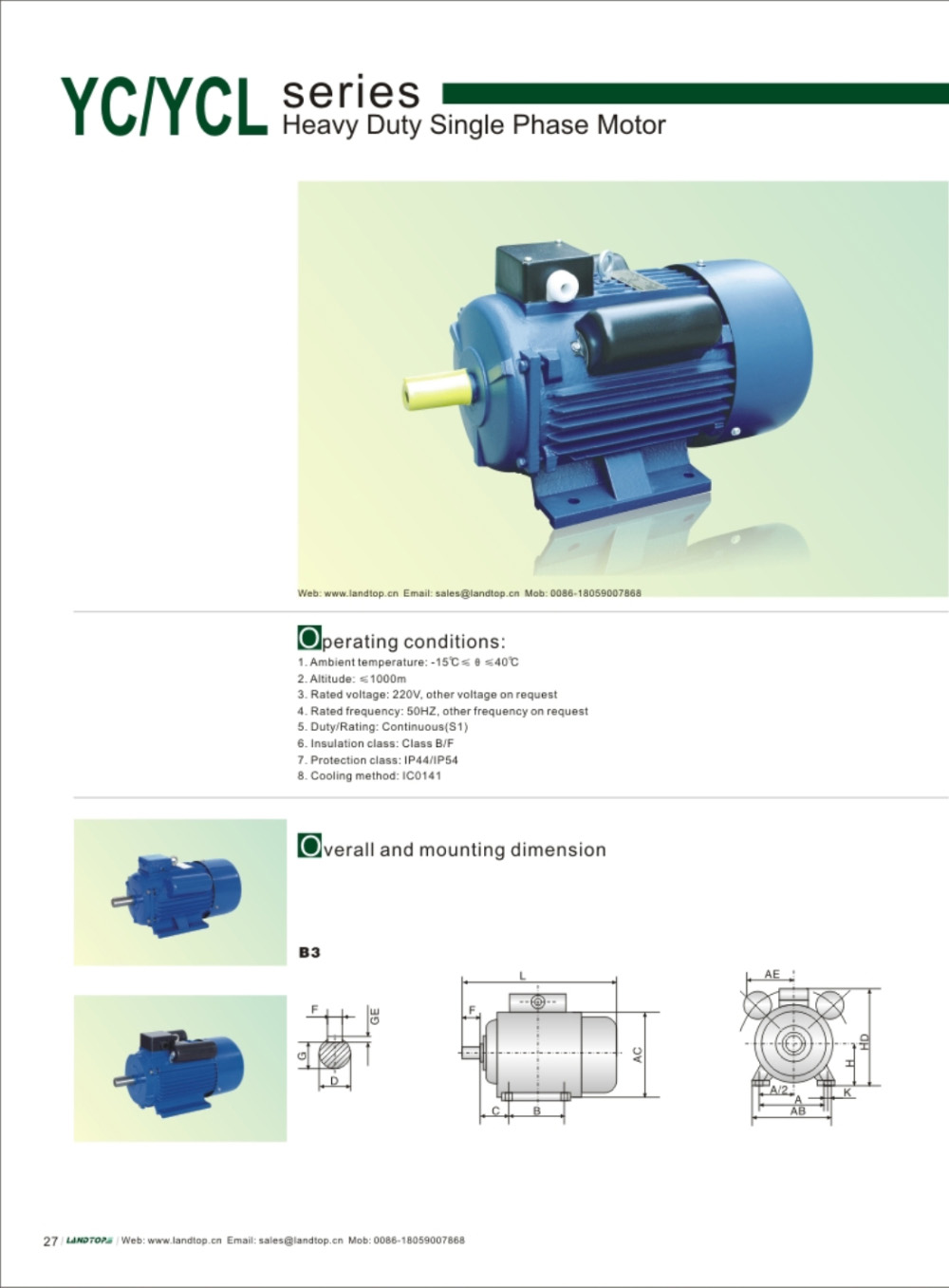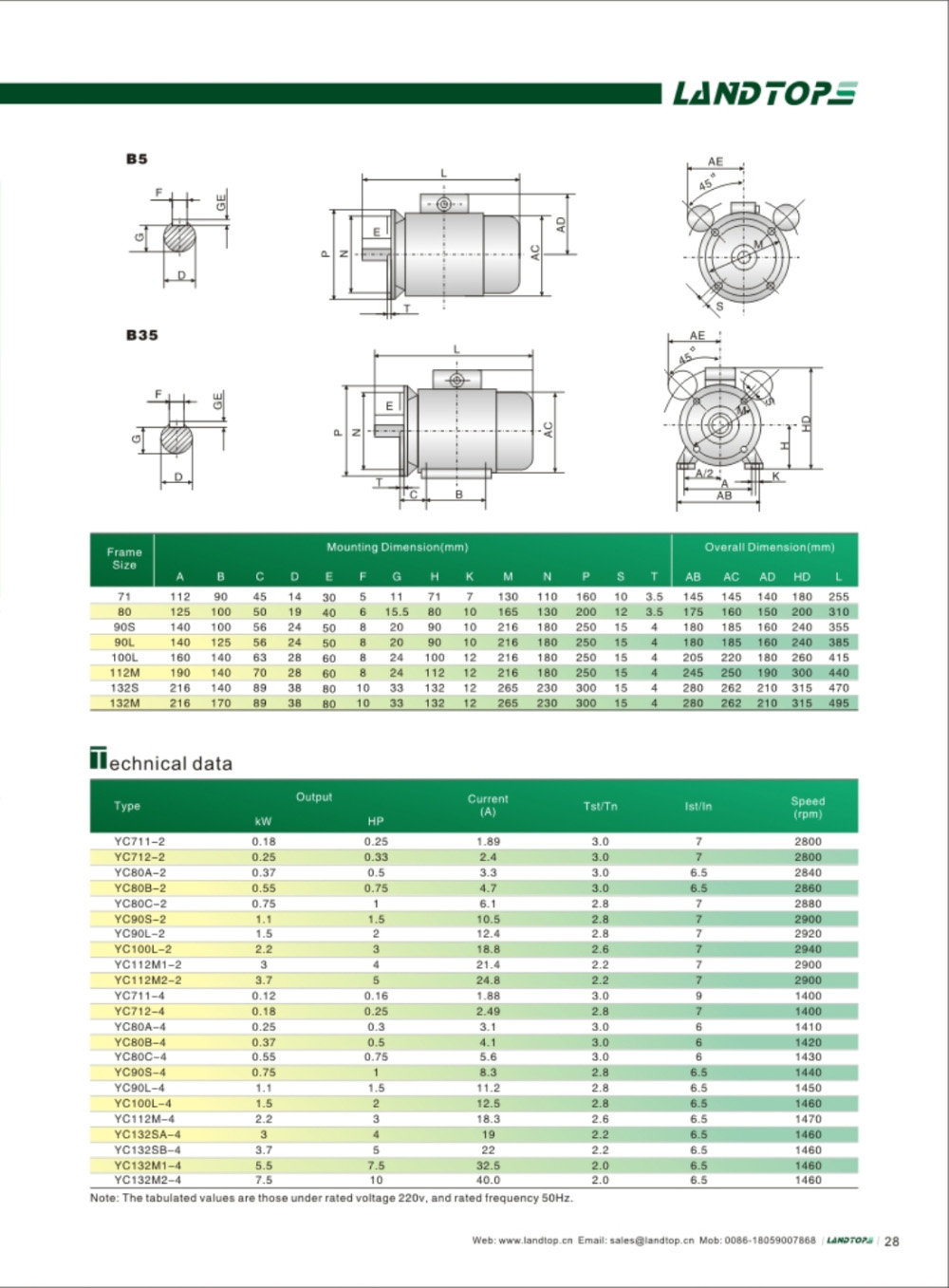 YCL Single-Phase Electric Motor, YC Single-Phase Electric Motor, Single Phase Electric Motor, AC Fan Motor
Comat Metal Products Co., Ltd. http://www.landtopcos.com